What is Aweber?
Aweber is a leading email marketing software service for small and mid-size businesses that enables them to run email campaigns.
With simple to use email campaign services and autoresponder platform, Aweber allows businesses to power up their growth by nurturing healthy relationships with their clients by meaningful and targeted email campaigns.
Aweber's simplistic and easy to use email marketing platform with the best email marketing tools that provides a great 'email for business' solution.
Whether you want to start a successful Blog on WordPress or launch a website for your Online Business, Email Marketing should be the core focus of your digital marketing strategy.
Aweber Reviews and Features in 2023- Is Aweber Free?
Aweber reviews of email marketing software. Automate Email Campaigns with Aweber Autoresponders. Create Stunning Aweber landing pages to grow your email list in 2023
Aweber's customer story – How Nina Manolson has grown her list over 1000% since becoming an AWeber customer 8 years ago by creating Landing Pages.
Aweber Reviews – Ease of Usage
Click on the image below and see yourself how easy it is to generate custom email templates within seconds!

One can easily import your email list to Aweber without requiring your subscribers to opt-in again
Check these links for easy import of
Aweber has exclusive features that allow easy management of Subscribers and tracking their actions
One can easily create Subscriber segments that best suit your reader's needs and segment those readers by metrics like Email Open rate, Click-through rates, geo locations, and others.
A Segmented subscriber list allows sending targeted emails based on subscriber's preferences or actions they take
Aweber allows over 600+ easy integrations with Landing Pages, Social media Accounts, Woocommerce carts and a variety of Softwares to enhance and extend your email marketing campaigns.
Top CMS Integrations – WordPress, Blogger, Squarespace, Weebly, WiX
Top E-commerce Integrations – PayPal, Shopify, WooCommerce
Top Landing Pages – Instapage
Aweber Review – Analytics and Reporting
Email Split Testing
Split testing is a wonderful means of optimizing the content and structure of your emails to provide the highest engagement metrics and ROI. Aweber allows you to test up to three emails simultaneously.
You can test subject lines, preview email text and message content, and even test send times to understand which email yields the most reliable results and captures engagement
Email Marketing Tracking and Analytics
Aweber's pre-designed dashboards and reports, deliver comprehensive and meaningful insights into the success rate of your email marketing campaigns
Analytics reports contain key performance metrics that are easy for everyone to understand – a must-have feature for email campaign software
Tracking reports allows to segment and target your audience on audience preferences. It also helps to deliver the right content to the right audience.
Email Deliverability with Email Blasts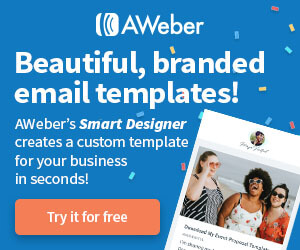 Aweber Review – Customer Support
Aweber offers Free expert customer solutions available by email and live chat 24 hours a day, 7 days a week

It also offers Phone support – 8 AM-8 PM ET Mon-Fri
Aweber Customer Solutions extends to user queries like help with setting up email campaigns, creating autoresponders or creating landing pages.
Aweber Offers Free Webinars that are scheduled to help their customers. Webinars are organized to onboard the customers

Webinars are platforms for customers to ask their queries and seek necessary help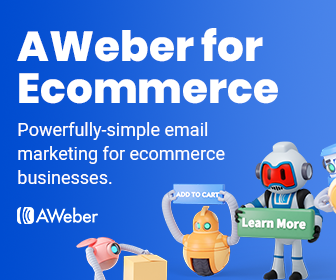 How Much does Aweber Cost?
Aweber Pricing is as Follows –
Up to 500 Subscribers– Aweber costs $19/Month. For 501-2500 Subscriber– $29/M |
2501 – 5000 Subscribers– $49/M | 5001 -10,000 – $69/M
10,001 – 25,000 – $149/M | 50,00 – 100,000 – Request a quote here
When you signup with Aweber, Following is included with your Plan –
Access to their email experts who are here 7 days a week to help you get better.
Easy-to-use tools to help you create emails, sign up forms and more to engage your subscribers.
Industry-leading deliverability to help make sure your emails make it to the inbox.
Simple email automation to get the right message to the right person at the right time.
Connect to social media, landing pages, shopping carts, and many more integrations to get the most out of your email marketing campaign.
Aweber Review – FAQs
Aweber Resources
Closing Thoughts – Aweber Reviews, Features and Email Marketing Trends
Email Marketing trends by Smart Insights show that Personalization and send times will have a significant effect in 2020 on Email marketing. Aweber has robust features to help its users with the segmentation of subscribers.
Aweber's split testing allows testing the send times to understand which email gives better results and drives engagement
Aweber analytics shows reports like CTR for emails and links, engagement ratio and Aweber's ability to segment and target subscribers are awesome and can add value to any business that opts Aweber as its business email provider.
Analytics data that is generated from Aweber analytics can be readily used to make business judgments that impact customer engagement and improves customer retention
Every plan of Aweber offers its full features without any upgrade hassles.
With an easy-to-use interface and stable mailing solution system that licenses you to start and keep up your frequent email communication with ease, Aweber certainly has user-friendly features as a top email provider.
Ease of use and features that come with the paid plans definitely makes Aweber one of the best email marketing software for business and individuals
Aweber Reviews of Users
4.8 out of 5 stars (based on 5 reviews)
Submit your Review and Help Others to Make an Informed Decision
FTC ​Disclosure:​ We earn a small commission if you use our referral links to make a purchase. This won't cost you anything but it will help us to keep building such content to educate others. Please share if you like this content